Arctic Expedition Archive (2016)
(with Aly Ogasian)

Position plotting sheets were produced daily on location in the Arctic Circle with Aly Ogasian, these sheets are an attempt to mix paint to match the sky color in the cardinal directions each day. Rocks were then collected at each location and labeled using the sky color. Text excerpts are from a trip log kept while enroute.



14 June, Ymerbukta
This morning was breakfast at 9am then afterwards we went on a short hike towards a glacier (walking west). I've been very confused about this compass + our direction all day. Every compass seems to say something different. Don't know if they need to be calibrated or if magnetic pole is affecting them.
- - -

15 June, Heemskerckneset
The sky is gray/overcast, but the sun in starting to peak through in the distance. The waves are rough in this part of the water. To the west the mountains are in the far distace and covered in snow. Sunight is breaking through. Facing south is the Antigua + a large brown mountain capped with snow.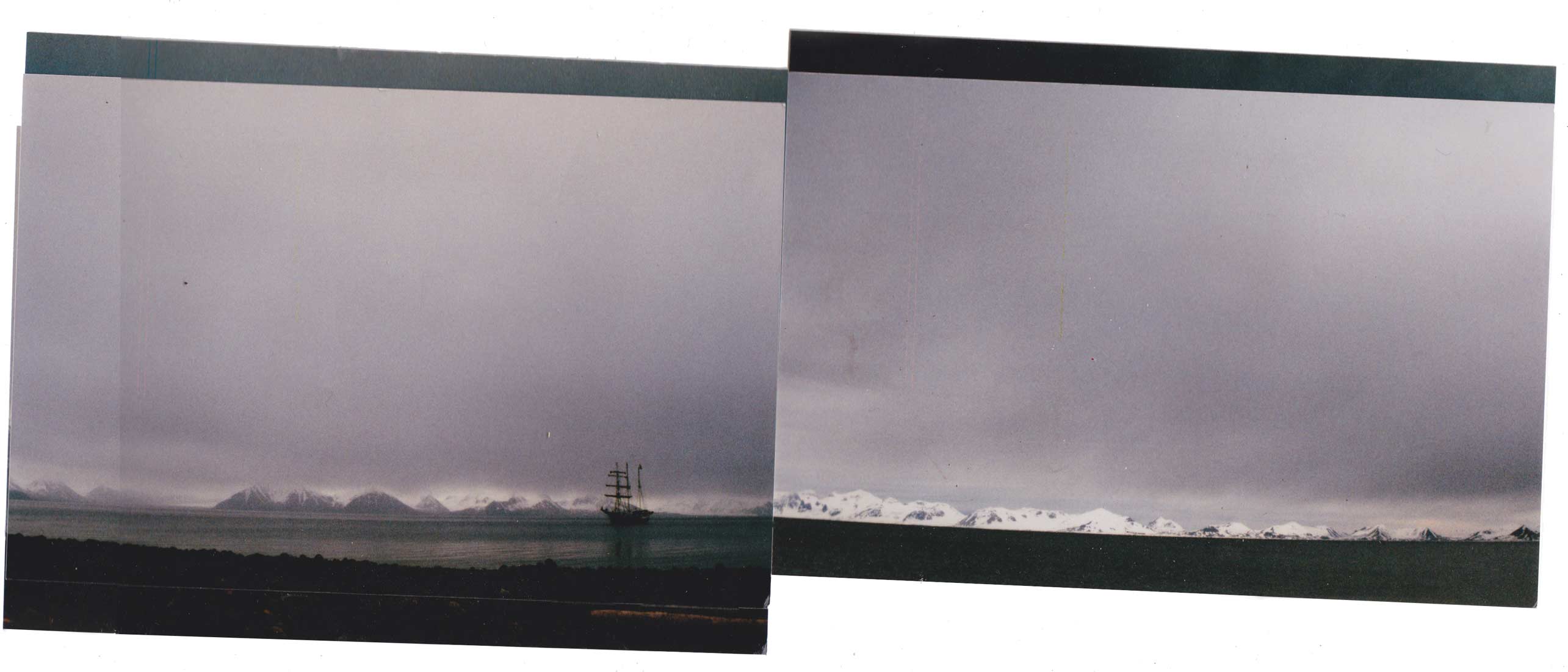 - - -

15 June, Engelsbukta
- - -

16 June, Tinayrebreen
The glacier was facing north and there were small ice floes. We marked the deck with tape (facing west/home.) The sun wasn't visible through the clouds. Went inside to work on a drawing, and the next time I went outside the weather had changed.

distance of horizon at sea=sqr root of height of observer's eye (in ft.) x 1.15
- - -

16 June, Lloyd's Hotel / Regnardeset
INSERT JOURNAL ENTRY
- - -

17 June, Fuglefjorden
The crew set sail in the night, and we went right by Danskøya without even knowing it. I was disappointed when I found out. We dropped anchor at Fuglefjorden and took zodiacs out to sit by a glacier in the middle of the ice. It was beautiful. The water was like a mirror.
- - -

18 June, Pack Ice
Today we are at same position as July 11, 1897 of Andree's journey. Andree looks to horizon in the east and sees an alto cumulus cloud. We just walked out onto the pack ice. The clouds are low and closing in and alomost appear as fog.

*reminder: look for ice blink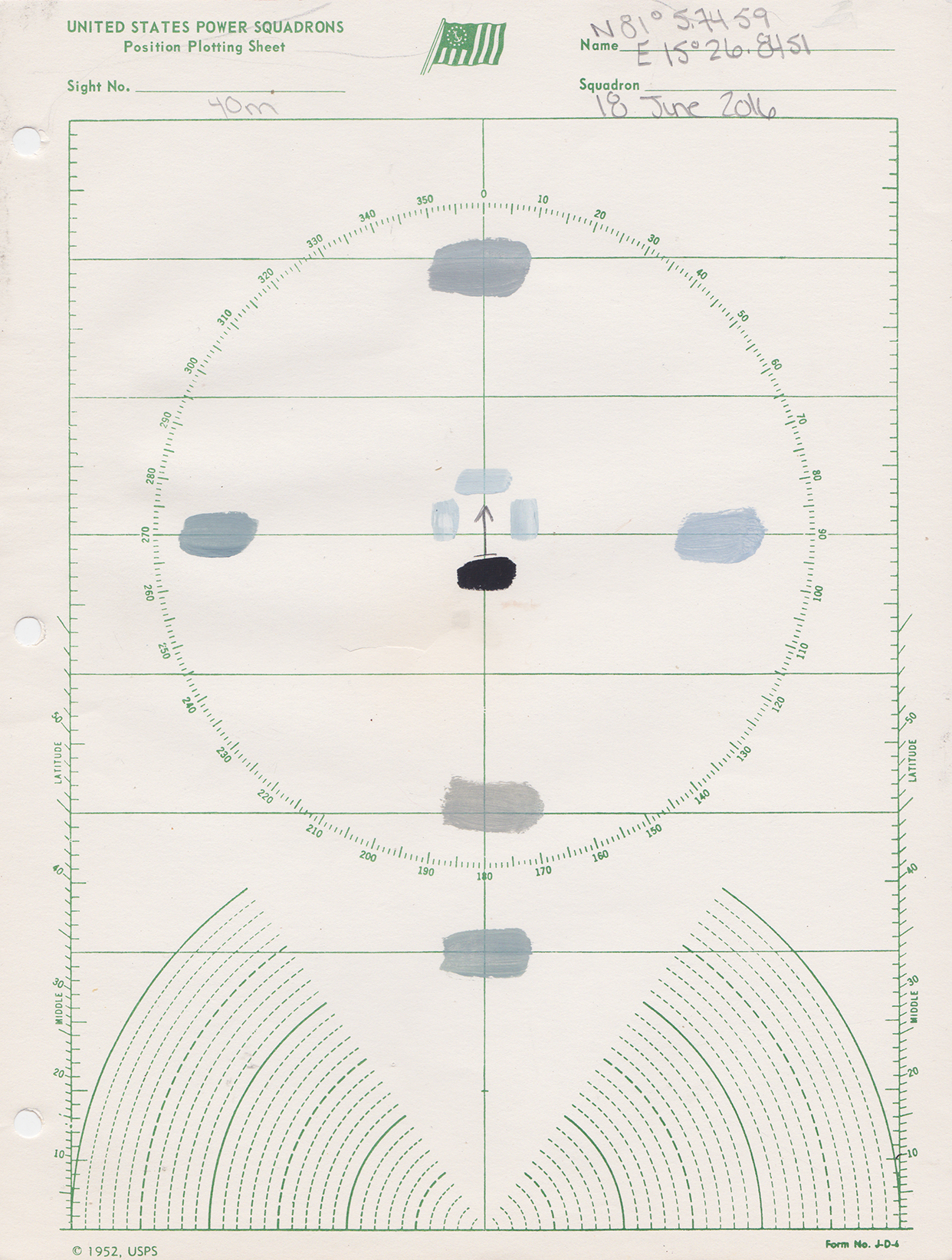 - - -

19 June, Sørvika, Murchisonfjorden
We are much farther east than I expected to go. We looked at Andree's map after realizing that we are following almost his exact route on the day he embarked. The captain said that because we put the sails up we were using the same winds that Andree used to fly north!
- - -

20 June, Sørvika, Murchisonfjorden
Boat is currently facing northwest. I can see the polar icecap to the east behind some distant mountains. It's hard to differentiate where clouds end and it begins.
- - -

20 June, sailing Hiplopenstrait
- - -

21 June, Raudfjordbreen
Today I left Ben's ashes in front of a glacier. The sun came out as soon as the wind took them away.
- - -

22 June, Danskøya
Met no ice worth mentioning, Virgo anchored in the strait between the 2 Norwegian Islands.*

*excerpt from Andree's journal
- - -

24 June, Ny Alesund

Data Missing

- - -

24 June, Blomstrandbreen
Have slight food poisoning today.
- - -

26 June, Pyramiden
Today on the boat in Pyramiden we painted the sky colors and drew the coastlines. It's always nice on the boat when we are alone.
- - -

26 June, Gipsvika
all images © Claudia O'Steen studio/ all rights reserved